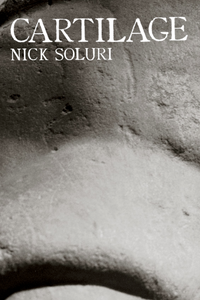 Poetry, chapbook, 44 pages, from Bottlecap Features.
Cartilage is a collection of poems that embraces the subtle eroticism of longing and desire, and the bodily effects of love. The poems deal heavily in romantic lyrics, the intimate moments between lovers, between friends, between those we've lost, and the remembrance of joy. Soluri attempts to describe the indescribable moments of desire with such care and graceful, polychromatic searching where he writes "draws muscle from tendon, pulls bone / out of bone, where we wish to pull hope // from hope, mouth from mouth."
In these poems you will find the sheer exhilaration of the erotic and the heartache of grief standing side by side, the joy of love and the brutal reminders of its leaving. With inspiration from contemporary poetry, art, music, and food, the poems position themselves as answers to the questions: "What if this didn't have to end? What if we never will?"
"In his poem, "Begging," Nick Soluri writes, "Give it to me straight / like this." In Cartilage, Soluri isn't afraid to "give it" to his readers "straight." We are given boats in museums, bagel runs to the deli, Vanderpump Rules, Real Housewives, snow, morning light, evening light, a father, a you, a "heart [that] is an overcrowded living room," all of which, when placed together, work to create a collage both of deep beauty and of deep, poignant, and complicated emotion. In poems like "Good Morning," Soluri isn't afraid to delve directly into loss, with lines like, "Tomorrow I'll miss you and then I'll put every piece / of clothing I have of yours into the washing machine," and in the same breath, the same poem, he delves into the beauty of the world, "the sky was so blue it dripped into every photo / I took on my phone" (he embraces the contemporary world, too, while also paying attention to the world's more ethereal qualities). This is the mark and collection of a true poet: Soluri deftly and wonderfully handles and recognizes the widest spectrum of emotions while simultaneously remaining rooted in and keenly observing specific images, objects, and people; he is, as with any great writer – and certainly Soluri is one – both an active participant in and an insightful noticer of the world, of life."

—Loisa Fenichell, winner of the 2022 Ghost Peach Prize in Poetry
"Nick Soluri writes from a place after the collapse, about wounds of the body, flesh, and spirit, of a cartilage that is tender, vulnerable, yet firm. In this body of work, the mind is composed; the voice is clear, weeping and singing, remembering and loving; the heart is wise, guiding with compassion and humility that are rare in today's world. This is such a strong, mature work for a debut collection."
—Bunkong Tuon, author of Gruel and other books
Nick Soluri is a poet and playwright from North Carolina. His work has appeared or is forthcoming in Pidgeonholes, Albany Poets, Poetry South, Misfit Magazine, and the anthology Without a Doubt: Poems Illuminating Faith (NYQ Books, 2023). He holds an MFA from Sarah Lawrence College.