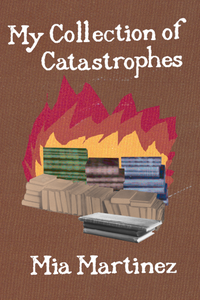 Poetry, chapbook, 28 pages, from Bottlecap Features.
My Collection Of Catastrophes showcases the post-psychiatric hospital mind of a young adult, saying to you "What They Don't Tell You After You Leave The Mental Hospital". In this collection of poems, you will learn what it is truly like to try and turn your life back to normal, before you realize that it will never be the same again.
There is a small mix of an attempt at normalcy, then back to remembering your past troubles. There are deep feelings of regretfulness and hopefulness at the same time.

POV: You've been released from the mental hospital. Discharged. Dismissed. Now what? Do you pretend it never happened? What do you tell your family, your friends, yourself? All you can do is write, because writing is therapy. This is the result.
Mia Martinez (she/her) is a 19-year-old poet and artist residing in Blakeslee, Pennsylvania. She began her love for writing poetry in early middle school, and hasn't put the pen down since. Mia is a wonderer, dreamer, and a self-proclaimed cat mom of two.