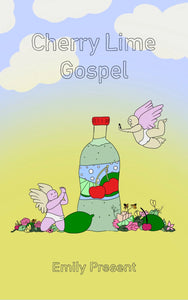 Poetry, paperback, 52 pages, from Bottlecap Press.
Cherry Lime Gospel is a kitsch infused exploration of love, self-hood, and spirituality in the age of the Internet. Or, what it means to be a girl-in-the-Anthropocene.
"Cherry Lime Gospel isn't afraid of unlikely pairings—here we see kisses with blood, moons with flaming hot cheetos, and disbelief with prayer. After reading Emily Present's poems, I was able to appreciate the unlikely beauty of the world in a new way—this is a very special book."
-Chelsea Hodson, author of Tonight I'm Someone Else

"Emily Present's Cherry Lime Gospel, like most gospel, drapes ritual and iconography in alluring language. These lyric poems long for connection, one surreal image at a time: "i want to eat roast beef together / and then i want to tug it off your ear." Present brings the divine into the everyday, where god is present for every fetish the poems are down for. Cherry Lime Gospel is a book for someone who thinks they've read it all, because they haven't."
-Ben Fama, author of DEATHWISH (Newest York Arts Press, 2019), and FANTASY (Ugly Duckling Presse, 2015)

Emily Present is a writer and third generation New Yorker. She co-founded and has been managing editor of the online literary magazine, G*MOB (formerly GlitterMOB) since 2014. Her first short book of poems, Cherry Lime Gospel, was published in March 2020 by Bottlecap Press (featured in NYLON and NYMag). She is currently an MFA Candidate in Creative Writing at Stony Brook University where she is the recipient of The Martell Prize in Creative Writing. She resides in Brooklyn with her dog, Batman and an excessive number of books. You can also find her @presentemzo.