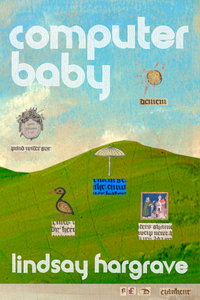 Poetry, chapbook, 20 pages, from Bottlecap Features.
Computer Baby is not a book but a print screen of the author's psyche. Like machine code, the software input looks completely different from the images projected on the screen. More literally, it's a short chapbook consisting of a series of poetic experiments with word and thought.

Taking inspiration from the culture and tech environment of the 2000s, the author presents us with a brain rendered in grayscale. To create these poems, a network of memory entered the poet's brain for processing, and what you are reading are the literary outputs of such experiments. In Computer Baby, what you see is never what you get.
Lindsay Hargrave is a poet, a copywriter for Temple University, and an editor at Graphic Violence Lit. Proceeds from Lindsay's debut chapbook ROT (2022) benefit ARC Southeast. Read more at https://linktr.ee/Hargrave or follow @notporkroll on Twitter.