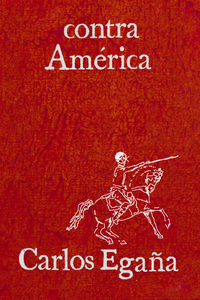 Poetry, chapbook, 24 pages, from Bottlecap Features.
In contra América, elation and disillusionment form the double helical structure that underlines the immigrant experience. Throughout its pages, poems about mental health, linguistic dissonance, and nostalgia describe the perspectives of a Venezuelan writer that has lost the concept of home. At times poisonous, at others vulnerable, Carlos Egaña stands his ground against those that embody the contradictions of his continent: in this case, himself.

Bad Bunny, Khalil Gibran, and Alejandra Pizarnik, among others, are names that fuel the words that compose this chapbook. Highbrow and pop culture overlap in each of its texts just as it does in our cell phones – no longer accessories but extra bodily organs. Spanglish, of course, is very present as well. In all ends, contra América weaves together the many strands that compose humankind's solitude to rip them in pieces.
Carlos Egaña (Caracas, 1995) is a Spanglish teacher. He recently earned his MFA in Creative Writing in Spanish at New York University. He has taught courses on Gender Studies and Modern North American Fiction at Universidad Católica Andrés Bello. He has three books in Spanish in print: a novel titled Reggaetón (2022) and two poetry collections, hacer daño (2020) and Los Palos Grandes (2017). And he has written about plastic arts, Latin-American politics and pop culture for various Venezuelan and American publications.