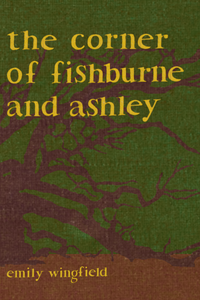 Poetry, chapbook, 40 pages, from Bottlecap Features.
the corner of fishburne and ashley is the second collection of poetry from Emily Wingfield. The poems in this work focus on the concepts of growth, change, and new beginnings through the lens of Emily's recent move to Charleston, South Carolina. Emily's powerful and honest voice shines through in pieces concerning growing up, family, struggles with mental health, and reflections on the problems of our world.
the corner of fishburne and ashley is a culmination of poems written throughout the first five months of her new life in Charleston. Wingfield's first chapbook, barely there, surviving (self-published, 2021), was an excavation of mind and reminder of reasons to live. This work takes those feelings, building upon them and exploring their connections to Emily's new life in a new city. The purpose of this chapbook is to explore purpose and new beginnings among the palmetto trees and humid evenings of Charleston she is learning to love.

Emily dedicates this work formally to her mother and father, Grace and Ted, but leaves this work as a larger love letter to not just everyone she has met since moving to Charleston, but to those that she has reconnected with as she starts this new chapter in life.
Emily will graduate from university in May 2022 and is both fearful of and intrigued by the future. the corner of fishburne and ashley celebrates the often ignored beauty of the limbo she finds herself in as she prepares for graduation and entering "the real world," through profoundly confessional poetry. She hopes readers will resonate with the deeply human experience of learning and evolving that Emily explores in the corner of fishburne and ashley.
Emily Wingfield is a 21-year-old bisexual, Black, AAPI author and creative from Charleston, South Carolina. She is the author of the poetry collection barely there, surviving, which was self-published in May 2021. She is pursuing a B.A. in History with a minor in Education from Arcadia University. She is a member of the Social Action and Justice Education Fellowship at Arcadia and credits a large part of her ability to flourish in self-confidence to this community. She is a founding member of the online poetry house, Tenderheart Collective (@tenderheartcollective on Instagram). Her work has been published in a variety of university interdisciplinary journals and literary magazines and she is looking forward to pursuing further publication opportunities. You can find her on Instagram @_emilywingfield, Twitter @emilyywingg, and online at linktr.ee/emilywingfield.