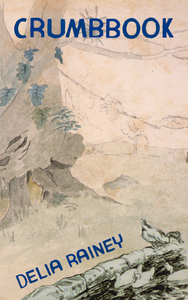 Prose, chapbook, 28 pages, from Bottlecap Features.
Crumbbook is an inventory of thoughts and visual experiences during a particular span of months of 2020, inside a particular span of neighborhood in Chicago. The project began as a strong desire to accumulate anything about real life, originally posted online as delia-writes-everyday-2020. Fragments trespass "the personal" and public exteriors. A diary written during the early pandemic, scattered bits connect to each other: crumbs sprayed onto park blankets, the binding of books, the shitty chromebook, a wicker chair on the stoop, and conversations with neighbors. Crumbs are the aftermath of consuming and forgetting amongst daily movement and action. Crumbbook wants to remember: here was my life.
The act of writing down the world, walking around or staring off into space, derives from a need to solve anxiety -- to focus on immediate objects and archiving memories to feel real, to face mortality. Mundane boundaries and screens into other worlds become a main source of attention, such as windows, chain link fences, the internet, and the body in time. The public park appears as an area without barriers: a neighborhood natural space of leisure outside of capitalism, where "other people's lives are real." Crumbbook leans on lessons from New Narrative authors to communicate long-distance into the void during a time of viral disease, isolation, protests, and death. Change arrived to break us out of routine, and yet change [the future] cannot come soon enough.
Crumbbook is a lyrical and solitary notetaking to process the disappearance of the past, and a book about survival through connection. Friends and family appear in this book and this book is for them.

Delia Rainey is a writer and musician living in St. Louis, Missouri. She received her MFA in nonfiction from Columbia College Chicago in 2021. Her prose and poems have been featured in DIAGRAM, Hobart, Peach Mag, and many others. Ghost City Press released her mini chapbook Private Again in 2018. Her website can tell you more: deliarainey.com