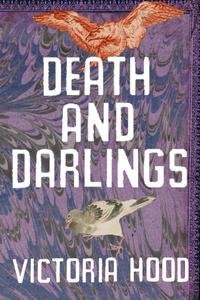 Poetry, chapbook, 36 pages, from Bottlecap Features.
Death and Darlings is a collection of poems dedicated to the past—past lives, past selves and evolving memories. These poems explore the way in which we think of loss and how loss lingers past our fingertips even when those we loved have been gone so long that our memories fade. These poems circulate around the loss of a mother, the loss of ourselves, the loss of a happy mind in a questioning world.
Death and Darlings is concerned with the way in which we perceive life and is drenched in the weathered gray robes we hide our bodies under. Throughout these poems there is a sense of obsession and body: what does it mean to embody? How do our bodies hold our hauntings? Some poems deal with the embodiment of living with an eating disorder and what it means to want to leave your skin behind to find new land. Other poems unpack what it means to live with a ghost stuck inside of your skin. Throughout, Death and Darlings wants to disrupt and reorganize your insides.
Victoria holds an MA in English from the University of Maine. Her work has been published in Interpret Magazine and pioneertown. She is also the winner of FC2's 2021 Ronald Sukenick Innovative Fiction Prize. Victoria strives to create work that can meld together the punk roots her parents raised her in with the disillusionment of losing her mother at a young age. Overall, she hopes to discomfort, humor and charm.