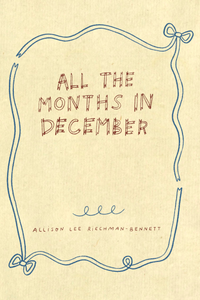 Poetry, chapbook, 24 pages, from Bottlecap Features.
There are many months in December, all of which are cold and dreary and filled with dry fruit, soups, and cookies with way too much spice. All the Months in December regard the holiday season as the desolate wasteland that it is. Take comfort in the tundra and the frozen tumble weeds wading through cuffing season with this collection of poems this December and all the months that follow.

Allison Lee Riechman-Bennett is a full-time student, writer, and author of both Of You and For Me (Bottlecap Press, 2022) and Pandemy Cookbook: We Get Through It (Saalt Press, 2022). Her writing has appeared in Vogue, many Instagram captions, and many a literary magazine. She is the 2022 recipient of The McCaleb Initiative for Peace grant from Missouri Southern State University where she plans to graduate Fall 2022. Her portfolio can be seen at www.allisonleeriechman-bennett.org and if you have any questions, she can be found in the back of the public library by the cookbook section.