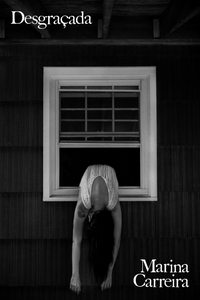 Poetry, chapbook, 36 pages, from Bottlecap Features.
In an exploration of the fine line between creation and demise, Marina Carreira's Desgraçada challenges what it means to be a product of both the fates and humans. In her second chapbook, Carreira bears witness to the complexities of being first-generation American via a crown of sonnets that detail their origin story. Nature and body collide in this collection as the poet navigates from one landscape to another with only the armor of their body, indistinctly tied to the lands that are her foremothers, children, and abuser.

Desgraçada embraces the wretched and bitter nature of women born in two worlds, and the deaths and rebirths suffered as a result of immigration, motherhood, sexual assault, addiction, and queerness. The poet ultimately re-claims this nature and uses it to forge a life centered on acceptance, forgiveness, gratitude, compassion, and resistance. Desgraçada is for every reader looking for salvation where none is vowed, where risk becomes promise if we choose devotion over disgrace.
"Marina Carreira's Desgraçada is an urban forest you walk into, through which you cannot walk out of unchanged. This book of "muscled myths" will sing true the songs of anyone who straddles the multiverses of time zones and languages and family histories, who knows what it is to be a daughter and a mother and a persimmon out of place. This collection of "fado and fire and clenched fists" will reach you deep in your bones, and like folklore, Desgraçada deserves returning to time and again."

–Carla Sofia Ferreira, author of A Geography That Does Not Hurt Us

"Carreira's latest, most penetrating collection is deeply in conversation with what has come before, artfully alternating italicized stanzas to explore, both at the level of form and in its topics, what are often considered wretched acts of living for women: loss, grief, abuses of the body, the immigrant experience, and sexual identity. With poems dedicated to Jean Valentine, Mary Oliver, Rachel McKibbens, and Brigit Pegeen Kelly, Carreira offers gratitude, pays tribute, and gains strength from her maternal poet ancestors."

–Lynne McEniry, author of some other wet landscape

"Desgraçada marks another pilgrimage site on the journey through holy poetic spaces with Marina Carreira. "...[P]rounounced/ patron saint of sudade and paucity," Carreira anoints us with a sacred braiding of longing and loss that we all suffer. Weaving words and lines into hymns with "desgraçada" as refrain, Carreira honors her ancestral, feminist, and poetry goddesses. She calls forth the power and abundance discovered in this sonic and blessed choir. "I'm a restless wave/ of a song that refused to mute." I am grateful for her profound and inspiring singing. May her words and voice always resonate in this cathedral of a world."

-Kathy Kremins, author of Undressing the World 

"Desgraçada is trekking into a wide and long forest only to return and realize how much the world has changed since you've gone.  It is finding you have changed, too, amongst the wandering and searching. Desgraçada is peeling olives by the well, howling at the moon, boats docking at the port of a new country, and a "persimmon where a heart should be"—this collection is a myriad of ache and loneliness that believes in folklore.  These poems believe, even after loss, there is more humming to do.

-Ysabel Y. Gonzalez, author of Wild Invocations
Marina Carreira (she/they) is a queer Luso-American artist poet from Newark, NJ. They are the author of Save the Bathwater (Get Fresh Books, 2018) and Tanto Tanto (Cavankerry Press, March 2022). They have exhibited their art at Newark Museum, Morris Museum, Artfront Galleries, among others.