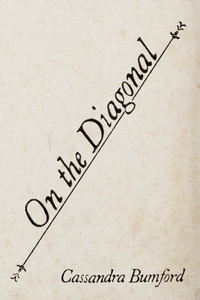 Poetry, chapbook, 28 pages, from Bottlecap Features.
A love found, a love lost, a love you never should've left. A love you let go on too long. This is about the moment when you are found, by someone who came along to filet your open heart like a cheap cut of steak that they have to make last all week long, just because you were there and lying down. Even as you scream, "THIS IS NOT THE OPERATING TABLE, I AM JUST AT HOME IN BED." They never stop the scalpel. They will, however, so kindly leave you a needle and thread.

On the Diagonal is about how the cut was made, but it also implores you to honor the fact that you are worth sewing up. This collection will tell you how. It will sing to you about the open and the close of a wound. Sit up, honey. Bleed all over the table, you have to. Let's get to those sutures.
Cassandra bumford (she/her) is a writer and poet from upstate New York. She is 25 years old and has loved writing for all of those years (give or take the first 5). She writes work based on her own experiences and observations of the world, pursuing themes like love, loss, and the excellence or despair that can be found in the mundanity of everyday life. She holds a bachelor of arts in psychology and graduated with a minor in creative writing. She works as a gymnastics coach, and currently has her first novel in the works. She has poems published in the anthology titled SMITTEN This is What Love Looks Like: Poetry by Women for Women published by Indie Blu(e) Press.