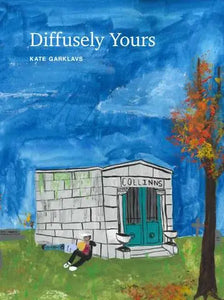 Poetry, chapbook, 28 pages, from Bottlecap Press.
Diffusely Yours is a love letter to place: public places and places of public defeat, sterile neon malls, night streets fecund with pigeons, dive bars, haunted kitchens. It reveres the back alleys and boxcars and diners of true discovery that now reside mostly in memory.
Diffusely Yours is Kate Garklavs' debut chapbook. Its poems examine what the artifacts of location bring to bear on us and how we translate these gifts to the world.
"In Diffusely Yours, we "uphold the glittered, misspelled letter of the law" one minute and the next finds us "in crawlspaces looking for Gunne Sax." Narrative-driven and sharp-tongued, Garklavs' letters are haunting and taunting: we may want to believe "in our diamond future we are richer" but Garklavs, like a good prophet, tells us what's in store won't be sweet or sentimental, but "dark as a blot on a heart.""
-Tasha Cotter, author of Some Churches

"In Diffusely Yours, Kate Garklavs transforms second-hand ordinary objects into shining beacons that remind us "artifacts outlast us all, / recasting under each new hand / that claims them." Her poems, addressing reams of memory, eschew grand nostalgia to meditate on everyday imperfections. Garklavs' work confronts the reality of material culture and our ephemeral existence. "I'm reimaging my personal brand," she admits, frank about aging, capitalism's false promises, and the desire to connect across vast distances. Love always surfaces in spite of the things that may overcrowd our lives. Garklavs beautifully reminds us that it is people who cultivate hope and joy in a difficult world."
-Alyse Bensel, poet, book reviews editor, The Los Angeles Review

"Kate Garklavs' Diffusely Yours is an enthralling collection of letters to other people, saying all the things we want to say but never usually do. The lines range from darkly funny ("Normcore means never having to say you're sorry") to starkly poignant ("Someday we'll take down/a wall and revel in the dust we ignored"). The landscape is ordinary, but the best kind of ordinary: the kind we exist in. The poems range from existing in shopping malls, a kitchen, high school, etc. But really, the landscape isn't just physical, it's love. It's centered on keeping love, losing love, fighting for love, and all those pesky gray areas and details inbetween. Human relationships are difficult, and this collection illustrates that, from person to person, allowing the speaker to give us a glimpse into their fractured, but still whole, world."
-Joanna C. Valente

"Garklavs' letters traverse the country, plumb relationships, objects, time—as in era and moment, what is a system of measurement and also an idea, what places anywhere on a map and also says, we are here. These wildly private and equally public poems—the epistolary as much form as content—are as much intimate address to a beloved you as to the world where we live, the world where we once lived. "Remember" the poems say, and even if we don't exactly, we do, are there. I love Diffusely Yours, its thrifting. Every single poem makes me want to write back."
-Monica Berlin, English Department Chair, Knox College
Kate Garklavs lives and works in Portland, OR. Her work has appeared in Juked, apt, Leveler, Tammy, and The Airgonaut, among other places. She's the prose editor for the Submission reading series. She tweets @ueberkatester.