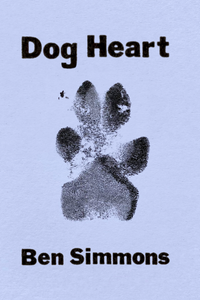 Poetry, chapbook, 20 pages, from Bottlecap Features.
Dog Heart is Ben Simmons' debut chapbook. These poems blend mythology and personal history into real and imaginary landscapes. From Dublin's Phoenix Park to the metro in Barcelona, the voices in these poems journey through a world of memory and myth making, fraught with the fragility of the natural world, to find what it means to have a dog heart.
Ben Simmons is a writer and musician. In 2016 he was selected for Poetry Ireland's Introductions and in 2019 received support from the Arts Council to attend the Can Serrat International artist residency near Barcelona. Ben's poetry and short fiction has been published in the UK, Ireland, and the United States. He grew up in county Donegal, Ireland and in 2021 he relocated to southern California.