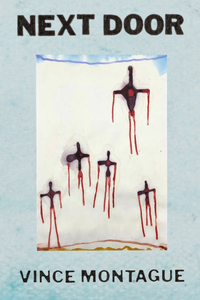 Prose poetry, chapbook, 28 pages, from Bottlecap Features.
Next Door is a collection of experimental prose poems based on walking and dreaming about the private worlds and the public faces of coexisting in tight communities, yet distanced and separate as if living on detached planets. Each poem in Next Door has a mailing address rather than a title, a location rather than a name. Each poem is a fragment, a glance inside a window, a conversation overheard on a sidewalk, a flight into the imagination of what we call "community."

This body of work created a space for me to work with a poetic form I was familiar with: the paragraph. I am a walker by habit, a writer by vocation. The two strains in my life combine during evening and morning hikes. During the height of the pandemic, the world stayed at home, sheltering in place. I think of the paragraph prose poems in this collection as squared forms much like the boxes we inhabit inside our apartments and within our homes, huddled spaces where we learn to live.
Vince Montague is a writer and artist living in Northern California. He is the author of Cracked Pot (Latah Books 2023), a memoir of grief, ceramics and creativity. His poetry and prose has appeared in The Southern Review, The Florida Review, Green Mountain Review and many others. His sculptural and functional work in ceramics has been exhibited in juried exhibitions, galleries, and can be found in many private collections.