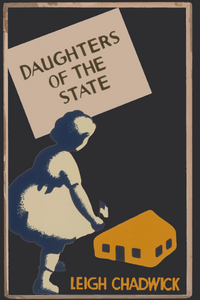 Poetry, chapbook, 28 pages, from Bottlecap Features.
Girls without mothers. Girls without fathers. Girls with too many uncles. Girls dressed as razor blades. Girls curled ghost, thinner than pen caps. Girls inspired by actual events. Girls built from meth and rotten apple cores. Daughters of the State is the story of what happens to those lost in a fractured system of hopeless survival, where the saddest parts of anything are often the truest.
"Daughters of the State by Leigh Chadwick is a collection of heartbreaking prose poems whose structure allows several ways into a narrative whose many uses serve in the multiple worlds of poetry and the even wider world of enlightenment and awareness. When reading Daughters of the State, one cannot help but be drawn in by Chadwick's brutal language and imagery. I challenge any reader to finish this chapbook while remaining unsympathetic to its cause. It is rare to find poems of such beauty and pain. Indeed, there is a lot to admire and relish in the poetry offered in this chapbook. Chadwick is to be congratulated for putting together such an intelligent and brave and honest arc of prose poems that touch the tender story of girls lost in a system perhaps only she has not forgotten."

-Ariana D. Den Bleyker, Publisher, ELJ Editions, Ltd.
"Clear-eyed, open-hearted, defiantly gorgeous, and harrowing. Sign me up for everything else Leigh Chadwick ever writes."

-Ben Loory, author of Tales of Falling and Flying