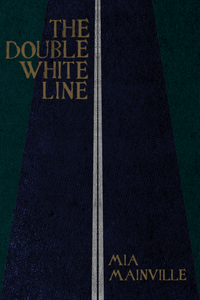 Poetry, prose poetry, chapbook, 28 pages, from Bottlecap Features.
The Double White Line carries you through all of the things that you feel but can't quite talk about. These poems are here to represent the ways you feel that you want to scream from the rooftop, and instead briefly slip into small talk over coffee on Monday mornings, resulting in awkward eye contact and a resolve to stick to topics like the weather moving forward.
The Double White Line contains poetry and prose to cross over that line that you aren't quite sure you're able to cross, and sit with the emotions that cause such discomfort, blindness, pain, and hurt. Mia Mainville's work isn't meant to show you how to fix them, rather to show you that they are okay to have. With carefully crafted words poured directly from the heart, The Double White Line works as a catch-all for what you have felt and can not yet bring yourself to say.
Mia Mainville is a writer currently based in Dallas, Texas. She has one previously self- published book titled Something Beautiful. Mia has been writing since she learned how to read and keeps every journal she has ever owned. She is currently working on a full-length poetry and prose collection titled Reality and Other Obscenities that I Wish Did Not Exist. Mia derives a lot of inspiration for her work from life experiences surrounding love, loss, addiction, and mental illness. When not writing, Mia is currently building a non-profit organization to support women who have experienced pregnancy loss.