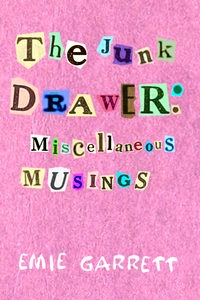 Poetry, chapbook, 40 pages, from Bottlecap Features.
Junk Drawers, we all have them— in our kitchens, our nightstands, in our own minds. The Junk Drawer: Miscellaneous Musings sorts through, or rather dumps out, the thoughts floating around Emie Garrett's mental junk drawer. Ordered chronologically of when they were written over the course of a year, you see Emie grapple with crushing heartbreak, trauma both new and old, those sweet fleeting moments of contentment, and what it means to be a woman trying to find her place in a world hell bent on telling her exactly where that is.

Inspired by her own experiences, conversations with her oldest friends and newest acquaintances alike, her self-indulgent existential ponderings and more, The Junk Drawer reaches a hand out to anyone who has ever felt lost in their own lonely, worried, angry, hopeful, half-healed mind and says, "Me too."

When not writing, Emie enjoys laughing with friends over coffee and/or martinis, calling her mom five times a day, reading books that make her feel insanely inadequate as a writer, making uber-specific playlists, and baking copious amounts of cookies that she forces her roommate to taste test.
Emie Garrett graduated Magna Cum Laude from The University of Alabama in 2021, earning a BA in Public Relations. In May 2023, she will graduate from The University of Alabama once more with a MA in Advertising and Public Relations. She currently serves as the Entertainment Editor for Alice Magazine, UA's award-winning women's magazine, and has had numerous articles published in Platform Magazine and Her Campus. This is her debut poetry collection.