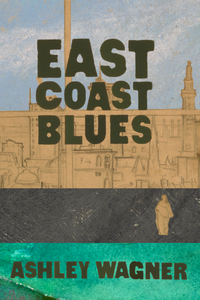 Poetry, chapbook, 44 pages, from Bottlecap Features.
East Coast Blues is a two-part meditation on the meaning of home. It slips from season to season, from mountain face to the mouth of the sea, chronicling one twenty-something-year-old woman's journey from a place of isolation into one of belonging. The speaker is soft-spoken yet attentive to the world around her. She renders her surroundings in sharp detail, drawing the reader deeper into her life with every poem, introducing them to a new friend—be it human or animal—with each turn of the page.

The speaker reckons with the shadows of her past against a backdrop of growing social unrest and climate disaster, grappling with issues of identity, undiagnosed health issues, and the resulting depressive spiral. As she attempts to find rhythm within the chaos, she builds herself a motley support group: roommates, estranged parents, dead fish, a rather flashy starling, and of course, her partner.

As tender as it is gloomy, East Coast Blues asks its readers, simply, to care for one another. After all, how else do we come together in times of conflict? What do we owe those around us if not compassion? What do we owe the earth if not our devotion? What does it mean to make a place a home if not to love the ones who inhabit it?

Ashley Wagner is a lifelong writer and Maryland resident. She received her M.S. in Professional Writing from Towson University with a focus in poetry. Legend is, her soul hasn't left the city ever since. She is the poetry editor for the Baltimore-based, modern gothic magazine Ligeia, and when she isn't haunting local bookstores, she is at home with her partner and their cat, Mocha. You can find more of her work, poetry and otherwise, floating around the internet or on her website ashleywagnerpoetry.com.