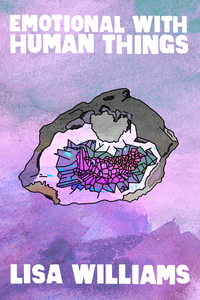 Poetry, chapbook, 32 pages, from Bottlecap Features.
Emotional With Human Things is a scrapbook of the poet's young adulthood. The poems in this collection were originally written over more than a decade -- from her first love poem at 18 to her first I-know-this-isn't-really-love poem at 29 -- and were carefully curated and reimagined into a chapbook that explores her on-going struggle to feel whole.

In these poems, the world is loud, the brain betrays, and life is only survived through medication and numbness. The speaker, unable to own her own humanity, looks for it in the desperate helplessness of crickets, the xenophobic frets of spiders, and the wishful thinking of fish. She looks for connection in burning houses and for her own wholeness in the love of other people. The kind of codependent love she finds is condensing and conditional, leading to a constant struggle between lizard brain and human heart, between "I love you" and "you deserve better." Ultimately, this poem collection is the story of how she tries and fails to put her own pieces back together.

Emotional With Human Things is Lisa Williams' first chapbook. It marks her return to herself after an unintentional years-long break from poetry.
Lisa Williams (she/they) is a queer, neurodivergent writer from California. When they aren't writing, you can find them adding to their collection of supplements, reading tarot cards, or endeavoring to make people laugh. She is never not thinking about trepanning.