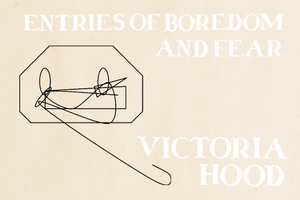 Prose, poetry, chapbook, 36 pages, from Bottlecap Features.
Entries of Boredom and Fear is a chapbook trapped inside itself. Written while working from home during quarantine, this chapbook allows the reader to trap themselves in a game of hide and seek. How can we find a way out of the walls we live in everyday? Can we suffocate from the whiteness of the walls holding us under?

The prose and poetry in Entries of Boredom and Fear explore the ways in which we can fall into obsession and intrusive thoughts. They want to examine how we can see growth under a microscope as a way to mirror how we can be trapped in our own minds and thoughts; especially, those that are repeating and relentless. Language is used to drive this chapbook forward and exhibit the repetition of obsessive thoughts.
Victoria holds an MA in English from the University of Maine. Her work has been published in Interpret Magazine, pioneertown, Selcouth Station, JAKE, G*MOB Magazine, Dollar Store Magazine, and Meow Meow Pow Pow Lit. She is also the winner of FC2's 2021 Ronald Sukenick Innovative Fiction Prize, for her collection of short stories My Haunted Home released by FC2. Victoria's poetry chapbook Death and Darlings was published in 2022 by Bottlecap Press. Victoria strives to create work that can meld together the punk roots her parents raised her in with the disillusionment of losing her mother at a young age. Overall, she hopes to discomfort, humor and charm.