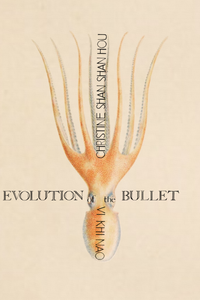 Poetry, chapbook, 28 pages, from Bottlecap Features.
EVOLUTION OF THE BULLET is a chapbook co-authored by Christine Shan Shan Hou & Vi Khi Nao. The collection explores a wide range of themes, employing vivid imagery and experimental forms. The work delves into the evolution of the war machine, both in terms of physical changes and societal structures, examining the transition from prehistoric times to the far future. It contemplates the role of patriarchy, artificial intelligence, and the persistence of hierarchical and patriarchal systems. Through thought-provoking and often minimalistic language, the poets challenge traditional notions of eroticism and identity.

The collection features incongruent poems that touch on various subjects. Written in dyadic propulsions, the minimal formatting and cascading structure of their poems further enhance the immersive experience. Vi's meticulous arrangement into minimal movements delves into different facets of her consciousness, ranging from philosophical introspection to the evocative realm of eroticism. Conversely, Christine's organization delves into the transformative journey of a young artist, navigating mythical origins, adolescent growth, and the ecstatic surrender to carnal experiences. Together, these poems invite readers on a thought-provoking exploration of queer self, art, and sexual desires.
VI KHI NAO is the author of seven poetry collections & of the short stories collection, A Brief Alphabet of Torture (winner of the 2016 FC2's Ronald Sukenick Innovative Fiction Prize), and the novel, Swimming with Dead Stars. Her poetry collection, The Old Philosopher, won the Nightboat Books Prize for Poetry in 2014. Her book, Suicide: the Autoimmune Disorder of the Psyche is out of 11:11 in Spring 2023. The Fall 2019 fellow at the Black Mountain Institute, her work includes poetry, fiction, film and cross-genre collaboration. She was the 2022 recipient of the Jim Duggins, PhD Outstanding Mid-Career Novelist Prize.

CHRISTINE SHAN SHAN HOU is a poet and visual artist of Hakka Chinese descent. Their publications include Playdate (White Columns, 2022), The Joy and Terror are Both in the Swallowing (After Hours Editions 2021) Community Garden for Lonely Girls (Gramma Poetry 2017), and "I'm Sunlight" (The Song Cave 2016). Their artwork has been exhibited at White Columns and Deli Gallery in New York City.