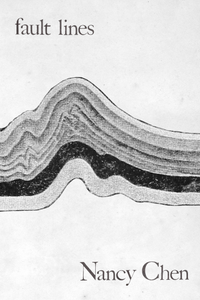 Poetry, chapbook, 32 pages, from Bottlecap Features.
Every native Californian will tell you that earthquakes are woven into their very existence. As children, we are taught to duck and cover to seek safety, that the rumbling and shifting of the earth is a simple fact of life.

fault lines is everything I wish I could've told my younger self: a coming of age collection of heartbreak and love and loss and fitting in, told through the lens of the land my Chinese parents made their home.

But most of all, fault lines celebrates the human experience, our ability to grow stronger after each break, and reduces the notions about fairy tales to rubble.

It's a journey of healing, from start to finish, and my hope is it helps you find healing through this same journey as well.
Nancy Chen is a writer, content creator, and daydreamer living in NYC. Also a senior marketing manager, fitness instructor, and self-proclaimed mermaid, she's dedicated her work toward paying homage to her Chinese American Southern Californian upbringing. A triple water sign, her poems are designed to make you feel, to help you take a breath and a pause in the midst of an always-moving life.