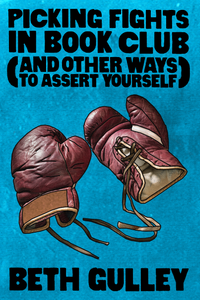 Poetry, chapbook, 28 pages, from Bottlecap Features.
This collection of short, narrative poems explores the diverse ways people may assert themselves. Most of the poems come from the feminine point of view. In the title poem, the author pretends she put someone in their place during book club. In a later poem, she asserts herself by not leaving a tip. The poet wrestles with aging and with allowing herself permission to occupy space.

Often, these poems exhibit a wry wit. One poem reminds the reader what it is like to be a backstage during rehearsals for a children's play and the joy of fooling around with toy swords. The poet writes a haiku for someone who invited her to lunch, but then didn't wait for her to arrive before eating. In yet another poem she meditates on an African name, Watende, which means "revenge will not be sought." These poems are for anyone who has thought twice about it but asserted themselves anyway.
Beth Gulley lives in Spring Hill, Kansas and teaches writing at Johnson County Community College. She has published two chapbooks and three full-length collections of poetry: Since Corona Ruined Our Trip to the Library (Finishing Line Press), Little Fish: Tiny Meditations on Freedom (Flying Ketchup Press), Dragon Eggs (Spartan Press), The Sticky Note Alphabet (Alien Buddha Press), and Love of Ornamental Fish (Alien Buddha). Beth serves on the Riverfront Reading Committee and is a Writers Place board member where she edits the yearbook. More information about Beth can be found on her blog at https://timeeasesallthings.wordpress.com/.