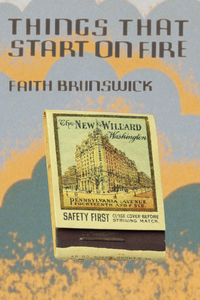 Poetry, chapbook, 44 pages, from Bottlecap Features.
Detailing a romance from passionate beginning to inevitable ending, Things That Start On Fire is a poetry compilation that grieves the death of a relationship and mourns a lover turned cold. In her first published work, Faith Brunswick looks back on a tumultuous love and explores the early days of romance, extreme passion, debilitating heartbreak, every red flag missed, and the loss of herself within someone else.
Reading like a story, this collection takes you through something that never could have lasted, but felt like it would. With thirty poems broken down into four parts, it asks the question: Do things that start on fire always burn out?
Faith Brunswick is a twenty-year-old writer and actress from Wake Forest, North Carolina. She currently lives in Queens, New York with the love of her life- her dog Bella. Things That Start On Fire is her first publication.