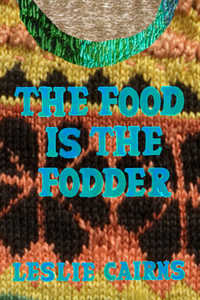 Poetry, prose poetry, chapbook, 32 pages, from Bottlecap Features.
In both flash and prose poetry, The Food is the Fodder is an exploration in themes of homelessness, identity, therapy eating disorders, and complex trauma. This collection discovers what it means to recover in a non-linear way, and asks the readers to ask themselves these very same questions.

With a haunted feel, as well as stories about therapy teams gone wrong – and right – the narrator takes a deeper dive into anorexia, and the years beyond a hospital stay. This collection of vignettes draws us closer to connecting with others who are struggling, and depicts the nuances in food, disordered eating, and the mentors we hold and cherish.
Leslie Cairns (She/her): Leslie Cairns holds an MA degree in English Rhetoric. She lives in Denver, Colorado. She is a Pushcart Prize Nomination for 2022 in the Short Story category ('Owl, Lunar, Twig'). She was an honorable mention in Flash 405's call in Exposition Review (2022). Leslie has upcoming flash, short stories, and poetry in various magazines (Tropico Line, Poetry as Promised, and others). Twitter: starbucksgirly