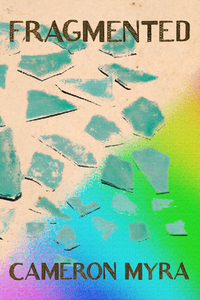 Poetry, chapbook, 32 pages, from Bottlecap Features.
"between rational and irrational thoughts there seems to be a split that occurs in the human mind. well, my human mind, at least. in this short collection i try to make sense of these fragments; 
                                 they split like wood."

FRAGMENTED is a small collection of poetry detailing how one may navigate the unknown, self-doubt and questioning, and more. From your own personal reflection to the meaning of life, FRAGMENTED outlines many different aspects of this life that we don't have answers for, and how one can venture through life from all perspectives.

In this short debut collection of poetry, Cameron puts on display her own thoughts, struggles, and realizations - moving through different journeys in life by asking questions about them. With inspirations gathered from transcendentalist and gothic writers, FRAGMENTED will surely bring new perspective and leave the reader asking questions about themselves and the world around them.
Cameron Myra is from a small town in central Maine, but lives in South Carolina now, with her mom and grandfather. She attends the University of South Carolina where she is working on her B.A. in English, with a minor in Creative Writing. Cam has been a bassist for about 10 years, and has played in several jazz ensembles, pep bands, and competed in marching band in high school. Her favorite color is green, and she seems to have a slight obsession with cheese. You can find her online through her Linktree: https://linktr.ee/cameronmyra