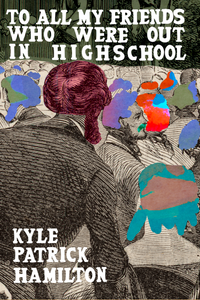 Poetry, chapbook, 28 pages, from Bottlecap Features.
Queer community can be a life raft, an essential education, and a warm drink on a cold night, but very few are born into their queer family. It's a melting pot of baggage. To All My Friends Who Were Out in Highschool started as an apology from one former traumatized closeted teen to the traumatized out teens who saw something worth cherishing in the speaker before they were ready to look at their own queerness, much less see it as beautiful. It also contains all the other poems that wanted to be written first.

The poems in this densely interconnected chapbook use memories of coffee, bonfires, vibrant colors, and songs to grapple with guilt, grief, regret, gratitude, and nostalgia directed at ghosts of the past who will never hear the words when the speaker wishes they could've. May it stand as a testament to what it was like to be a queer and closeted Christian teen in the early 2010s, as it hopefully gets harder and harder to imagine.
Dr. Kyle Patrick Hamilton is a poet writing about food, machines, and the strangeness of having a body. His work has featured in Powders Press and The World Beyond Our Station, a charity sci-fi zine. They hail from Raleigh, North Carolina, where they spent their closeted years, and have since found themself in the position of being a queer elder for college students in Blacksburg, Virginia and Davis, California. By day, Kyle is a food flavor researcher and university teacher.