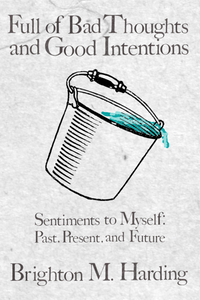 Prose, poetry, chapbook, 36 pages, from Bottlecap Features.
This chapbook is about life. Well, at least someone's life. In short excerpts, eras of life are told through memories and poems, meaning to speak on your past, present, and future self. The author may only be 24, but the work isn't necessarily about being at a qualifying age. Still, the inevitable responsibility, self-doubt, creeping detachment from your body, and overwhelming thoughts that come with being the eldest daughter challenged you to maneuver around everyone else's moods and feelings while trying to understand your own.

Only recently, I discovered a lot about myself that would've benefited me when I was younger. But, at the same time, I have always known or questioned everything about myself as I learned about others, just how different I felt in comparison—being smart but not being able to prove it, being creative but not having the gall to show it, being a lot of things. Still, I always have some sort of blockage in my way. This led me to a conversation with a friend; we talked about what we thought we would be like when we were 50, how we felt that would be our prime, our time to live fully. Creating a point- that everyone had lied to me about not living up to my potential, and a question- Has no one ever understood what it meant to live a life?
Brighton M Harding (b. 1998, Richardson, Tx, United States) describes her writing as a hybrid of poetry and essay-based. Through her writing is rooted in poetry, she finds that allowing herself to extend her thoughts and boundaries beyond the limits of traditional poetry. She has written chiefly to understand herself all at once, in incredibly different moods, spaces, and times. She writes about sexuality (or lack thereof), dysphoria and disassociation, and walking in a world that doesn't have a placeholder for you (well, her).