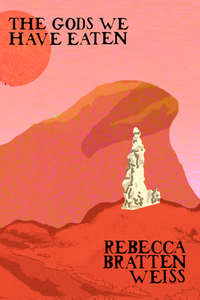 Poetry, chapbook, 28 pages, from Bottlecap Features.
Body horror and toxic pastoral are the dominant aesthetic in these poems that explore memories of coming of age at a Christian ranch and retreat center, recollections of navigating male-dominated academia, and present experiences of climate disaster, pandemic, and rising fascism in the United States.

I grew up in conservative religious communities, where women are taught from an early age that our bodies are dangerous. These dangerous bodies must be subdued, suppressed, reformed, placed in the care of men or churches, made to submit, made to reproduce. Men, we are told, are the conduits of divine power, while we can only be receptors. And when we step outside the tiny boxes allowed to us, or claim our own direct line to the divine, violence is the response.

The poems in this collection are mostly about this violence, the subjugations and eviscerations of unruly bodies, that we accept as normal. They are also about the things we do to survive this violence, such as clinging to floors to keep from falling, or throwing the bodies of princes onto bonfires, to stay warm on frozen winter nights. Because living in survival mode can leave a person uncertain about where their skin ends and their disguise begins, or about who is a predator and who is a protector, these poems are also about shapeshifting, disguise, and areas where lines are blurred. Am I the villain or the hero? Am I a woman or a dragon? Is this my face or a mask? Asking these questions is a way to be honest even while we stay, for safety reasons, masked. 
Rebecca Bratten Weiss is an editor and journalist residing in rural Ohio. Her creative work has appeared in a variety of publications, including Two Hawks Quarterly, Presence, Connecticut River Review, Shooter, New Ohio Review, Gyroscope Review, The Seventh Wave, and Westerly. Her collaborative chapbook Mud Woman (Dancing Girl Press), with Joanna Penn Cooper, was published in 2018, and her collection Talking to Snakes (Ethel Zine and Press) in 2020.