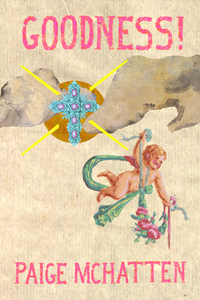 Poetry, chapbook, 40 pages, from Bottlecap Features.
GOODNESS! is a collection of poems that center around the written word's capacity of spreading good. Acknowledging great poets, from Dickinson to Lorde, it attempts to recollect a definition of goodness, but not without adding its own twist.

Thus, GOODNESS! is as much a poetry collection as it is a scrapbook manifesto. Exploring themes of sexuality, femininity, and the self, it attempts to make meaning in an age of overwhelm. At the same time, it pokes fun at said attempt.
Paige McHatten is a student and writer at the University of Maine, where she is the editor of the undergraduate literary magazine, the Open Field. She published her first chapbook, WORLD PEACE AND COWBOYS, with Bottlecap Press in 2022. If she isn't writing, she is likely either laughing, talking nonsense, or thinking of what she's going to do next. GOODNESS! is her second chapbook.