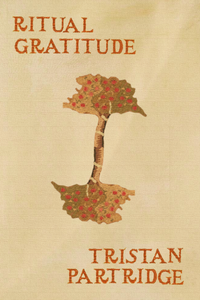 Poetry, chapbook, 20 pages, from Bottlecap Features.
Ritual Gratitude is a series of minimalist meditations.

Each short incantation takes shape around an offering of thanks. Together, the collection reflects on presence/absence, doubt/certainty, healing, memory, and motivation.

Woven throughout is the theme of reconnection – with our ecological Selves, with our shared worlds, and with the countless beings of all kinds that make our lives possible.
Tristan Partridge is a writer and artist originally from West Yorkshire, now living in Santa Barbara, California. With a background in social and visual anthropology, Tristan's essays and photographic works address how people engage in diverse struggles to maintain connectedness. Recent exhibitions include group shows at Siy Gallery (San Francisco); the New York Center for Photographic Art; the Chania International Photo festival (Crete, Greece); and Millepiani (Rome, Italy). Tristan's text scores, poems, and commentaries have been published by The Center for Deep Listening, Resilience, Dead Letter Office, and others.