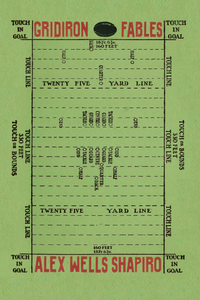 Poetry, chapbook, 20 pages, from Bottlecap Features.
Gridiron Fables is a set of 16 'erasure fables', one for every week of the NFL season at the time the collection was made. The source text is a weekly montage of 'useless sound' bites from NFL postgame press conferences and analysis, compiled and curated by producer Billy Gil for their cliched, circular meaninglessness for The Dan Le Batard Show with Stugotz, a radio show formerly of ESPN.

The project explores the stakes for, and lessons and values taught by the people who in many cases literally sacrifice their bodies and brains within a culture of toxic masculinity and zero sum capitalism that serves as an over-exaggerated reflection of American culture more broadly, and that much of our nation, including the author, fixates on for half the year. It's a world full of contradiction and full of feels, where the bravado is so outsized it sometimes accidently says the quiet part out loud, revealing the inherent vulnerabilities in being valued for just your physical viability. It's a voice that's easy to empathize with for anyone who's felt commodified.
Alex Wells Shapiro (he/him) is a poet and artist from the Hudson Valley, living in Chicago. He reads submissions for Frontier Poetry, serves as Business and Grants Manager for Another Chicago Magazine, and co-curates Exhibit B: A Reading Series presented by The Guild Literary Complex. His debut poetry collection, Insect Architecture, is available now from Unbound Edition Press. More of his work can be found at www.alexwellsshapiro.com.