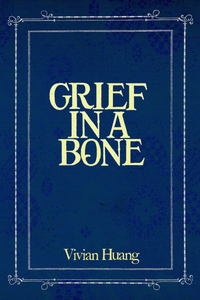 Poetry, chapbook, 24 pages, from Bottlecap Features.
Grief in a Bone is the anatomy of grief, building itself with the bones of the heart, the body of family, and the veins that tie life and death together. With each poem comes a different story that explores the dissection of melancholy through a microscopic lens that blurs the moving pictures of the collection. Through the smoldering seams of its vignettes, Grief in a Bone becomes the lucid dream of journeys of sorrow and desolation, taking us through the lifeline of the boy left alone, the tragic lovers, and the forever-losing family, stirred with the infinite train, the routes with no destination, and the pulsing skies of heritage.

These poems have the power to redefine what grief means and reincarnate into its severing carcass with its paradoxes and impossibilities. It explores the intricate walls of the living and carves itself into what we have always known. And this is how it will end: hollow and gone.
Vivian Huang is a young poet from Irvine, California. Her poetry is published or forthcoming in Eunoia Review, Polyphony Lit, The Ice Lolly Review, and elsewhere. Her work has been recognized by the Alliance for Young Artists & Writers and Princeton University, among others, and she is the founder and Editor-in-Chief of The Cloudscent Journal.