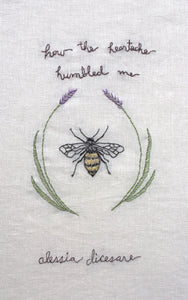 Poetry, chapbook, 48 pages, from Bottlecap Press.
How The Heartache Humbled Me is a soft collection of poetry that unthreads weakness associated with vulnerability and sews it back together with strength. It's about finding the courage to say, "yes I am hurting" while no longer fearing your honest heart. It's about loss. It's about missing someone, until you don't. Most importantly, How the Heartache Humbled Me is stitched with the intentions to heal. It is a remedy for the brokenhearted, and a reminder to let the leftover love soften you, instead of harden you.
Alessia Di Cesare is a poet, daydreamer, and an anti-linear storyteller based in Toronto, Ontario. She is the co-founder of Northern Otter Press and has edited poetry for Witchcraft Magazine. She studied English Literature at the University of Ottawa. On her free time, she likes to make Spotify playlists for people she loves.