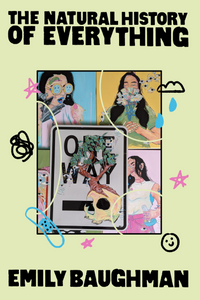 Poetry, chapbook, 20 pages, from Bottlecap Features.
The Natural History of Everything is a poetry collection about hope, grief, and rebirth in the face of the end of the world. After the ashes, something will always grow; crawling its way through the concrete and softening the edges of the world. This collection invites the reader to be gentle and ease into something brighter. Hope.

Nature returns, matter cycles, energy flows and we are reborn to be deer. There's beauty in endings. And beginnings.

Emily Baughman is a painter and poet living in the Midwest. She can either be found in a lab coat or chasing toads through cornfields with her dog. As a proud aunt and daughter, Emily's family is her main love in life; closely followed by friends, books, and fun facts about medical history.