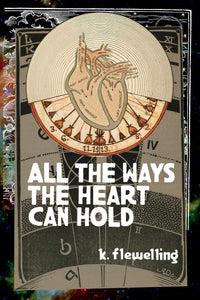 Poetry, chapbook, 40 pages, from Bottlecap Features.
All the Ways the Heart Can Hold is a meditation on the many forms of love: the way love can be full and heavy, or empty and lonesome, and simultaneously dizzying and joyful. Love can be longing and regret, because within that, there is an appreciation for the lives we can't live, but might've chosen. These poems reflect a consideration of some of those possible lives.
This collection emerged from a daily project of dream interpretation from July 2021 February 2022, a time in which the author transitioned out of an 11-year relationship and into a new season of solitude and self-discovery. The dreams reflect fantasy and imagery, hopes for the sweetness and spontaneity of young love along with an active effort to emerge into a new version of self that can contain all of the life she had lived thus far.
k. flewelling is a writer because it is the surest way that she understands this business of being alive. She is passionate about stories and has spent all of her remembered life documenting or cherishing them in one way or another. She obtained her PhD from the University of San Diego and is currently a teacher educator of ethnic studies and educational research. She spends her days drinking copious amounts of coffee, laughing and pretending with her child, and always paying attention in the best ways she knows how.