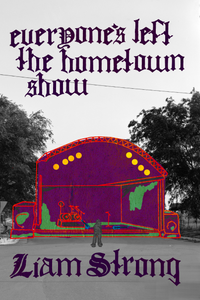 Poetry, prose, chapbook, 24 pages, from Bottlecap Features.
Reflecting on the loss of musical and subcultural community, everyone's left the hometown show acts as a time capsule to when punk and metal shows were once at their peak in the scene surrounding Traverse City, MI. The poems within retain shredded fabric from sweaty Gildan band shirts, memories of what feels like an era of time that never really existed. Perhaps an homage, maybe a love letter, probably just a postcard from the next town over.
everyone's left the hometown show is a mixed media moshpit of poetry and photography, many photos of which were shot at Studio Anatomy in Traverse City prior to its closure in 2022. There is a conversational anger in the chapbook that grapples with the nature of suffering, such that the suffering we choose to endure can be pleasurable, that pleasure can even look like hardcore punks punching us in the face when we need it the most.
When the poems in everyone's left the hometown show demonstrate a longing for sanctuary and acceptance in their casual line breaks, the poems also collaborate with humor, the kinship between show-going friends, the belongingness that can only be found through music. Despite such fondness for the past, the intersection between punk ethos and queer identity has not always been a safe place to foster growth. For every good song, there's displacement, othering, hostility inherent to the toxic masculinity of extreme genres of heavy music. everyone's left the hometown show aims to critique and appraise the punk community in equal attention to finding one's self as well as shedding dirt on exclusivity and elitism in the community.
Queer, vulnerable, soft, and fighting against the inevitable war of nostalgia, everyone's left the hometown show is elegiac without being an elegy. As every poem unburies the walls of venues long since closed, every poem also etches a silhouette of place. Debates of legacy, what we lose when we try to fit in, and what it really means to be punk are the axis of questions all punks, young and old, might never know the answer to, even after reading this chapbook.
When they aren't searching for rare punk cassettes, Liam Strong (they/them) often wonders how to next queer classical philosophy and linguistics in new poems and prose. Previously nominated for both Pushcart and Best of the Net awards, they are a queer neurodivergent cottagecore straight edge punk writer who has earned their B.A. in writing from University of Wisconsin- Superior, from which they have received a Summer Undergraduate Research Fellowship (SURF). They have served as Chapbook Coordinator for Michigan Writers Cooperative Press (MWCP) and former editor of NMC Magazine. You can find Liam's poetry and essays in Impossible Archetype, Ghost Proposal, and Emerald City, among several others. They are most likely gardening and listening to Bitter Truth somewhere in Northern Michigan. everyone's left the hometown show is their first chapbook, a mixed media collection of poetry and photos. If you ever see Liam in the wild, don't ask them about losing their shoes during Sorority Noise's last Michigan show. They'll never shut up.