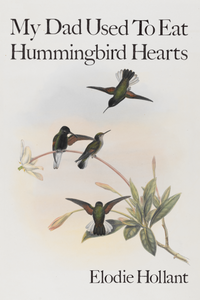 Poetry, chapbook, 28 pages, from Bottlecap Features.
My Dad Used To Eat Hummingbird Hearts is an eclectic stream-of-consciousness. As Elodie Hollant's debut chapbook, Hummingbird Hearts is representative of the questions, the meditations, and the existential uncertainties that flap around in their head. Each poem stands as its own entity, in its own realm, yet all connect as part of the conversations between the self, the natural world, and society at large.

A deeply personal collection, Hummingbird Hearts offers a prismatic view of one particular individual that can be applied to the collective.
Elodie Hollant is an aspiring writer pursuing their BFA at Pratt Institute. They're from Haiti, and travel frequently between Port-au-Prince, Fort Lauderdale, and Brooklyn to visit their family, shoot film photography, and eat French pastries. Their interest in writing began when they were just six years old, when their mother read a chapter of Charlotte's Web to them each night before bed. E.B White's ability to foster sadness in baby-Elodie (who was, and still is, terrified of spiders) toward a dying Charlotte inspired them, even at such a young age, to explore different relationship dynamics and express all the emotions they've ever felt.