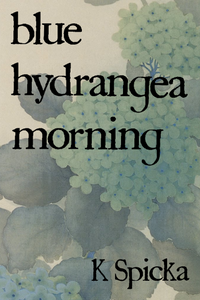 Poetry, prose poetry, chapbook, 36 pages, from Bottlecap Features.
Everyone has loved and lost. It's not until we love again that we begin to fully grasp the scope of what has gone. By opening ourselves to all the joy and passion of new love, we also open ourselves to fear. What if love leaves us all over again? And does surrendering to the new mean forgetting the old?

blue hydrangea morning looks for beauty after loss and finds it waiting in new people and in old places. It tells a story about moving on but not letting go and the ways that grief and joy can occupy one body, or even a single moment.
K Spicka is a recovering English major living and writing in Omaha, NE. Their poetry can also be found scribbled on sticky notes, occupying half-full notebooks, and – like any elder millennial – in a notes app on their cell phone. They would also happily chat with you about whatever knitting project is currently occupying their spare time. blue hydrangea morning is their first published work.