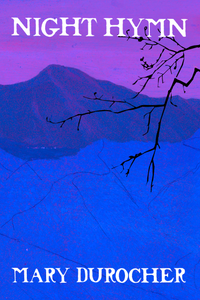 Poetry, chapbook, 36 pages, from Bottlecap Features.
Night Hymn chronicle's one woman's journey from a girlhood hounded by the past to an eventual celebatory reclamation of her own autonomy. Fragments of this life are shown from the shores of Lake Champlain, a hotel room in Phoenix and the Adirondack mountains to the streets of the East Village and the 36th Ave subway platform.

The poems in Night Hymn are full of ghosts. Both the rigidness of what has already transpired and the vague promises of tomorrow haunts the pages. How is she to flourish into herself if the past is always there, hidden in the present?
Mary Durocher is a poet and writer from Schenectady, New York. She's a graduate of Marymount Manhattan College, where she studied Creative Writing and Digital Journalism. Her writing has recently appeared in The Carson Review, Laid Off NYC, and KGB Bar Lit.