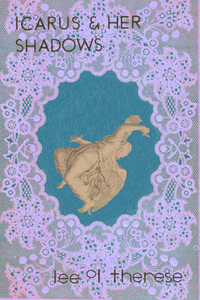 Poetry, chapbook, 28 pages, from Bottlecap Features.
The poems within Icarus & Her Shadows are stories about grieving; what it burns down and what might come of this fertile ash. The stories begin with a death and a rebirth, wondering at what the soul holds onto when the body has been abandoned. This death and rebirth is not just literal, but the death and rebirth many experience in the wake of trauma; we are no longer the people we once were and the question is asked, "Is there a name to be called when I am no longer the person I was?" When discussing grief, many forget to include who we are and who we become after a loss, and how we have to meet ourselves once again. Grief is not one singular feeling or experience, it is evolving and encompassing and becomes written into our very bones, an echo in the backs of our minds. This doesn't mean that grief is something terrible or something to be avoided—grief can be the way in which you change and grow.

Intertwined with reverie and natural imagery, many of these poems carry a softness meant to hold the readers, and cushion their bodies when the free fall comes. It aims to encourage you to greet your shadows and see what you can become once the sun stops burning your skin and is instead a warm embrace once again. There is no running from grief, not really, and while Icarus & Her Shadows is a reflection on grief, these poems are also the hope and the promise of better days to come.
lee 이 therese is a mixed-aapi poet (hanguk/kānaka/white) born & raised in SE Portland, OR, currently living in Olympia, WA. She is currently attending Evergreen State College to study community journalism & cultural studies. Her poetry is largely influenced by a sense of place, community, personal identity, and how she exists amongst all of these.