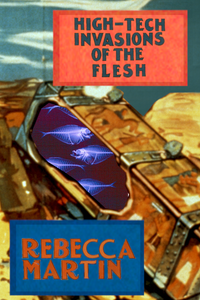 Poetry, chapbook, 40 pages, from Bottlecap Features.
High-Tech Invasions of the Flesh traverses landscapes of embodied, queer, femme experiences of violence, desire, and grief. In these poems, who gets named and who does the naming and defining is questioned, put under a microscope, and rearranged. True crime, commodified violence, and destruction of the natural world do not exist neutrally in these pages; rather, the speaker, the reader, and all participants are implicated, and asked to consider their own positionality.

This collection engages in a spectrum of forms, from a traditional sonnet crown to more hybrid visual and prose poetry. These poems weave together in conversation with pop culture, history, and myth in order to trouble gendered narratives of surveillance, embodied experience, and queerness. From the history of vultures in myth to true crime podcasts to the plight of Sarah Connor's roommate in The Terminator, these poems zoom in and ask the reader to consider and reconsider their assumptions and landscapes they might have once found familiar.

Rebecca Martin (she/they) is a poet, educator, and roller skater. Her poetry centers embodied queer femme experience, in conversation with and troubled by the parameters of history, archive, and myth. Their work can be found in Beaver Magazine, Crab Creek Review, Peach Mag, Muzzle Magazine, DATABLEED, Cotton Xenomorph, Dream Pop Press, and others, and received an Honorable Mention in the 2022 Gulf Coast Poetry Prize. They are a graduate of Oregon State University's MFA program, where they were awarded the Graduate Creative Writing Award in Poetry and served as poetry editor for literary magazine 45th Parallel and department steward for their graduate employee union. She currently teaches writing at the University of Pittsburgh.