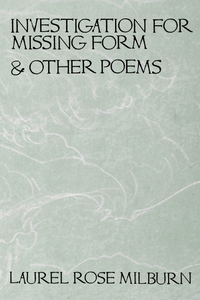 Poetry, chapbook, 24 pages, from Bottlecap Features.
Through finding chaos in the quiet, Investigation for Missing Form & Other Poems finds itself balanced between fragmented language and images that strike a chord of mysterious nostalgia. The poems explore the role of the observer in a world rife with urgency as large as the planet and as small as a molecule.

Like a familiar song that plays in a dark room, the poems in this collection evoke a surreal and trembling awakening. With a variety of vantage points, readers travel from moment to moment until meaning begins to settle like an ash in the pauses.

Laurel Rose Milburn holds her BA in English and Spanish from Florida Southern College and her MFA in Poetry from Columbia College Chicago. Her work has appeared in The Barnstorm Journal, Right-Hand Pointing, and The Ilanot Review.