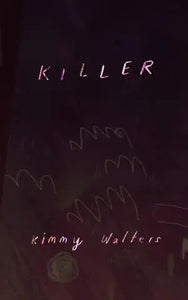 Poetry, paperback, 95 pages, from Bottlecap Press.
Killer is the second poetry collection by Kimmy Walters, a writer characterized by Dazed Magazine as "one of poetry's brightest young things" with "a sense of wit as sharp as her words." Heavily influenced by an interest in modern mysteries and forensic science, this collection considers the world with a deep curiosity and a tinge of suspicion.
"Reading Killer feels like being stabbed by someone who then does a comedy act about your injury that is so funny you can't help but laugh, and you aren't sure if the laughter is despite the pain or because of the pain."
-Mira Gonzalez, author of i will never be beautiful enough to make us beautiful together
"This book reminds me of being alive more than other books remind me of being alive
When I read this book I feel a little anger at how good it is, but I also feel like I'm laughing in a red convertible
This book is so good it ruined my day but like in a fun way"
-Hera Lindsay Bird, author of Hera Lindsay Bird
Cover by Theron Harley Jacobs
Kimmy Walters (b. 1990) is the author of two poetry collections, Uptalk (2015) and Killer (2016). She lives in San Diego, CA.