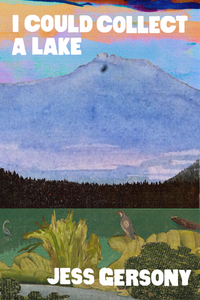 Poetry, chapbook, 28 pages, from Bottlecap Features.
"I drag my feet to the river / and I drag my river home"

I Could Collect a Lake is an exploration of what it means to be a water-body. What does it mean to collect water, for humans and plants? Is it consumption, but also the ability to hold? What is loss? This chapbook is a close study of interactions and water – their journeys, infinities, and entanglements.

Gersony starts with a poem hydrologically exploring a queer relationship, and finishes with a poem investigating how plants cope with loss. In between, she explores specific aspects of plant-human-water intersections and parallels. With this work, she seeks to open up new empathies for the natural world.
Jess Gersony (she/her) is a plant scientist, poet and educator exploring how humans relate to the earth. Her poetry has been published in The Sycamore Review, Bear Review, Off the Coast, The Tide Rises, and Willows Wept Review, and her scientific writing has been published in New Phytologist, Plant, Cell and Environment, and Plant Physiology. She is currently an Assistant Professor at Smith College where she runs the PLACE (PLant physiology, Art, and Community Engagement) Lab.