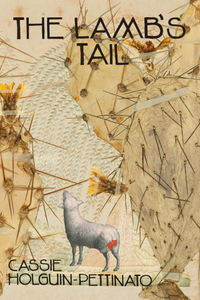 Poetry, chapbook, 48 pages, from Bottlecap Features.
The Lamb's Tail is a collection of poetry that looks at the space where inner and outer landscapes meet at the Mexican border. It's about the fragmented homes of childhood to divorced parents. One home filled with a sense of belonging and another lost in fear and anxiety. It's about a lamb without a shepherd who becomes food for vultures and predators. The Lamb's Tail is where pain is finally confronted and layers of truth are spoken within the adobe walls. It's where family redemption can begin. It's about finally finding roots.

Cassie Holguin-Pettinato is a Chicana poet and collage artist living in the El Paso/Juárez frontera with her daughter. She also plays the otherworldly sounds of the theremin. Cassie graduated from the University of Texas at El Paso with a BA in Creative Writing and a minor in Museum Studies. Her poetry and art have appeared in Chrysalis, Chismosa Press and Barrio Panther. As Cassie navigates through the complexities of motherhood, mental health and chronic pain she hopes to inspire others to face their traumas and find peace.