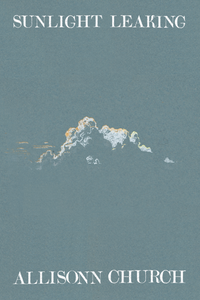 Poetry, chapbook, 24 pages, from Bottlecap Features.
Our gaze finds the light in photographs and moments, paintings, poems, and pencil sketches. Sunlight Leaking illuminates a series of scenes from a life in the country, as observed through the eyes, mind, hands, and heart of a woman molded by her ancestors, the land, and the inevitable passage of time.

Observation is an act, never static, and each glimpse, once cataloged, continues to change with the daylight. These poems tell an ongoing story of noticing, caring, collecting, and remaining open. They weave their way into and out of the tangible world.

After you visit the tender experiences held in the pages of Sunlight Leaking, they will drift softly skyward with your next exhalation.
Allisonn Church was born in a small rural community to a mother who pinned butterflies in glass cases and hid scarab beetles in her jewelry box. Her first favorite poem was "The Willow Fairy"' by Cicely Mary Barker. She spends her free time alternately reading books, rescuing animals, and plucking poems from the branches of flowering trees. Her work can be found in The Hopper, Enchanted Living Magazine, and Tiny Seed Literary Journal.