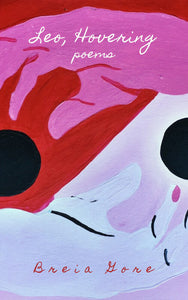 Poetry, chapbook, 40 pages, from Bottlecap Press.

Leo, Hovering is a personal telling of exciting feelings piled on exhausting feelings, what love is on some days and what it isn't on others, and how a sarcastic woman handles newfound stigma. It talks of sex, contradictions, and the soft pain of learning to be human passed rippling effects of generational and personal trauma.

"The poems in Leo, Hovering are self-aware and deeply personal to where the reader might feel as if they had stumbled upon confessionals in a diary. Breia Gore paints a brutally honest portrait of womanhood against a Florida backdrop, dripping with sunsets, nymphs, prayer, and fits of mania. 'It is a mouthful to call herself a girl at all,' Gore writes, in the poem, 'Rapture,' before musing that it's much easier to say 'black hole' or 'taxidermy.' These poems are dizzy and dreamy, but so carefully rooted in reality."

-Lauren Milici

"In Leo, Hovering, Breia Gore offers up a collage of familiar images and objects transformed into a photocopy of a dream with the contrast dialed all the way up. These poems steam & shake & sneak up on you with their wit & heart. When Gore begs 'tell them I loved / just about everything' I want to whisper that love to everything I touch."

-Emily O'Neill

Breia Gore is an Asian-American writer from South Carolina, currently living in Colorado. Her work has appeared in Adolescent, FlyPaper Lit, Electric Moon Magazine, giallo, glitterMOB, & Perhappened. She is the author of poetry chapbooks Not For Us To Conquer (Finishing Line Press, 2018),  Leo, Hovering (Bottlecap Press, 2019) and Stuck in a Grave (Vegetarian Alcoholic Press, 2021). She enjoys the snow, memoirs, & music.