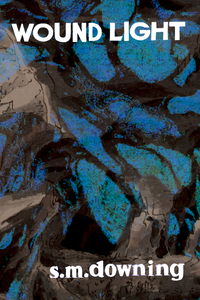 Poetry, chapbook, 48 pages, from Bottlecap Features.
Wound Light considers the human as universe and the human as animal. It takes into account the limitations of this body, this life, and the simultaneous unknowable vastness of the mind.
The chapbook follows a young woman navigating loss at every scale–from climate change and geological time to the death of a father and the loss of a romantic relationship. While at times sparse and desolate, Wound Light simultaneously displays the fecundity and wonder of life on Earth. It is a book that is both hopeful and yearning.
The poet Ed Roberson once told s.m.downing, "You only have one life and you only have one work." She's taken this advice perhaps too literally. She is the author of the novella, The Family That Carried Their House on Their Backs and is currently working on her second novel.