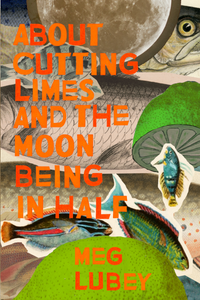 Poetry, chapbook, 52 pages, from Bottlecap Features.

About Cutting Limes and the Moon Being in Half is both combatively nostalgic and obsessed with being present. This collection of poems swims around in sentimental memories, drenches itself in the saccharine, and clings on to the familiar, all while desperately attempting to live in the moment. How do the wistful and reflective move up and onward? How do they compromise with the warmth of the past? What happens when you leave half of yourself behind?
Cut limes and half moons are both coeval and absent at the same time. They are content and lost all at once. About Cutting Limes and the Moon Being in Half finds these contradictory feelings in corporeal experiences, recollections, and occasionally within fantasies. Each poem is an attempt to rediscover, preserve, relish, and let go. It is an attempt to enjoy what couldn't be enjoyed in the past and to hold on tightly to what could amid life's entropic nature and the development of new identity. Through language and record keeping, the author explores this process of trying to maintain both parts of themself: the half that lives in the minds of their family and the half that newly is.
Meg Lubey is a painter and writer from Buffalo, New York currently studying and working in Cleveland, Ohio. Their paintings have been on view in galleries like Albright-Knox Contemporary Art Gallery in Buffalo, NY, Reinberger Gallery, Kaiser Gallery, and SPACES in Cleveland, OH, and University Gallery in Ypsilanti, MI. Their writing has been previously published in Stone Fruit Magazine, Wax Nine Journal, and in a collaborative zine they themself organized and created to benefit the LGBT Center of Greater Cleveland titled Ordinary.